If you manage a busy WordPress website with many authors and articles, then PublishPress Checklists is a very useful plugin.
Having many authors in a website is challenging because everyone has their own writing style. However, thanks to PublishPress Checklists, you can at least minimize that differences in style.
I'm going to review the PublishPress Checklists plugin, which we use frequently on our WordPress sites.
You can make sure your authors fulfill the requirements before they can post an article. Here are some example requirements that you can use:
Ensure your posts have a minimum or a maximum number of words.
Require your posts have a featured image.
Check for any broken links.
Force authors to use a specific number of Tags or Categories.
Ensure that images have ALT text.
If you have the Yoast SEO plugin, you can ensure that the readability or analysis score is good.
PublishPress Checklist has 2 versions, Free and Pro. The free version you can download it from the WordPress repository, while for the pro version you can purchase it from PublishPress.com.
If we compare it to the Pro version, the Free version does not have these features:
Control height and width for featured images       
Checklists for WooCommerce products       
Pro version downloads and updates       
Remove PublishPress ads and branding       
The PublishPress Checklists Interface
The interface of this plugin is simple and straightforward. After you installing the plugin, you will see this menu. Click the "Checklists" link and you'll be able to set up the requirements for your posts and pages.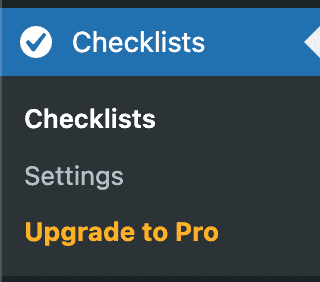 When users write posts, they will see this "Checklist" option in the sidebar: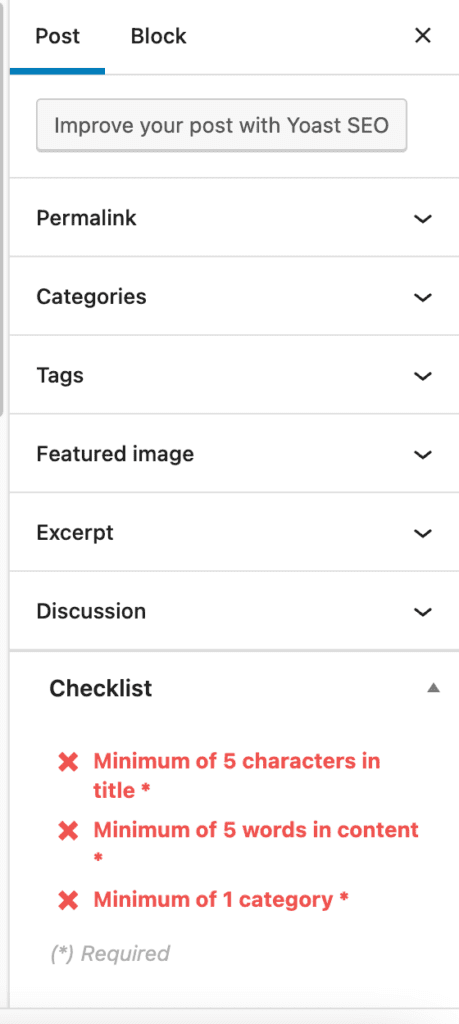 User will not be able to publish posts until these requirements are met. Each requirement will show a red warning sign unless it is correctly completed. You can see the red X signs in the image above.
The "Publish" button will also have a warning sign as in the image below. You will not be able to click the "Publish" button unless all the required checklist tasks are complete.
Full list of PublishPress Checklist Features
These is all the features or capabilities that the PublishPress Checklist plugin can do:
Title: Maximum or minimum number of characters.
Body text: Maximum or minimum number of words.
Categories: Maximum or minimum number of categories.
Tags: Maximum or minimum number of tags.
Taxonomy terms: Maximum or minimum number of terms.
Excerpt: Maximum or minimum number of characters.
Internal links: Maximum or minimum number of internal links.
External links: Maximum or minimum number of external links.
Featured image: Require a featured image.
Featured image size (Pro version): Require a maximum and minimum height and width for featured images.
ALT text: Require ALT text for all images.
Broken links: Check that all links use a valid format.
Permalink: Control the characters in the URL.
User approval: Require that posts are approved by users in a specific role.
Yoast SEO: Require that posts get Yoast SEO approval.
There are 3 statuses that can be selected in each task:
Disabled
Recommend
Required
If you choose the "Required" option, it will be impossible to publish without completing the task.
On each task, you can also define which role can ignore. So, for example, you define that the editor can ignore that checklist, then the editor can publish it even if the checklist is not complete.
Custom Checklist Items
You can also add your own custom checklist requirements. However custom tasks do not complete automatically. Users must check the box to show they have completed the task. 

PublishPress Checklists Conclusion
PublishPress Checklists is really powerful if used for a website that has a lot of authors and articles. You can make sure that all of your posts fulfill you're site's requirements.
PublishPress also has sets of other plugins that help you in content writing and publishing. You can check all their plugins at PublishPress.com.
---