WebP is quickly becoming one of the most popular image formats for WordPress users.
WebP is a technology developed by Google with the goal of making the web faster. On average, WebP images are 40% smaller than their PNG equivalents.
Support for WebP has been increasing in recent years and now the format is supported by all modern web browsers. So, can you use WebP images in WordPress?
---
Yes, you can use WebP images in WordPress
Yes, for nearly all WordPress users, it is possible to use WebP images inside WordPress. WordPress added support for WebP in WordPress 5.8, which was released in July 2021.
WebP is being adopted at much faster rate than some other files types. For example, SVG support in WordPress is happening very slowly.
However, there are two caveats to this statement.
First, some older hosting companies do not provide the tools needed to use WebP images. If your hosting company doesn't support WebP, you will see an error message when uploading an image.
Second, WebP still isn't listed in the official WordPress documentation as a supported format. You can ignore this because we recently tested all the file types that you can upload in WordPress. And although WebP is not officially listed as a supported file type, you can do anything with WebP images that you can do with PNG and JPG images.
In this image below, I've created a new Image block in the Gutenberg editor, and uploaded a WebP image.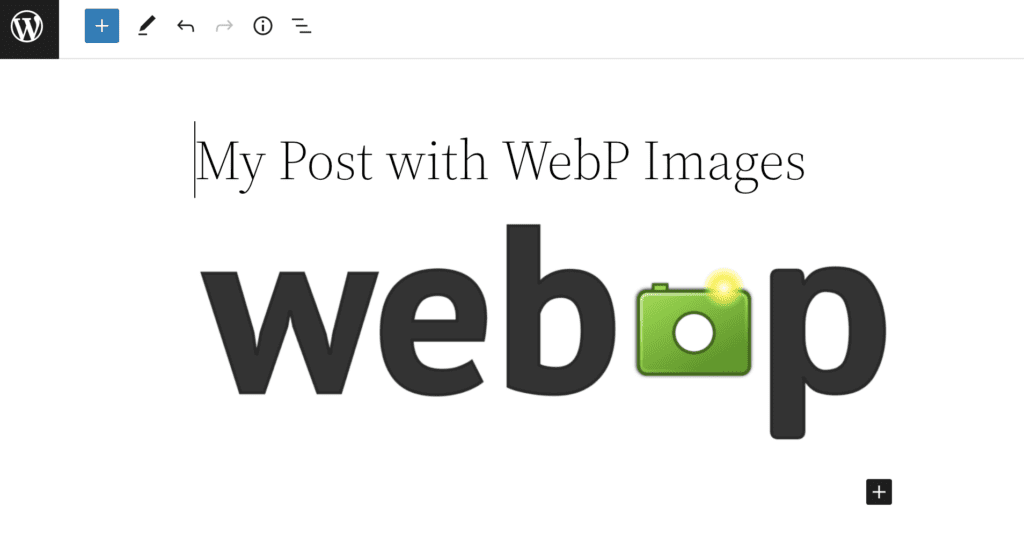 As a WordPress user, you may not see many benefits from using WebP. However, your visitors will likely appreciate the change. WebP images are smaller and lighter, so they load more quickly. Your visitors will see your pages load more quickly without any reduction in image quality.
---
WebP will soon be the default format in WordPress
Yes, you read that heading correctly. The web really does move quickly these days:
In WordPress 5.8, it became possible to upload WebP images.
In WordPress 6.1, WebP will become the default format for all images.
Starting in version 6.1, WordPress will generate WebP versions of all uploaded JPG images.
This work was done by the "WordPress Core Performance Team" whose focus is on making WordPress as fast as possible.
At the moment, there are no plans to allow users to disable this, so you will need a plugin to disable this feature once WordPress 6.1 is released in November 2022. To help with the changeover, there will be some safeguards in this feature. For example, WordPress will only generate WebP images if they are smaller than the original. This will reduce the number of images that WordPress generates for each file upload. However, I'm writing this a few months before the release of WordPress 6.1 so the final implementation may change. There's a very lively discussion about WebP in this WordPress thread.
---
You can use WebP images with MetaSlider
Yes, MetaSlider slideshows do support WebP images. You can upload WebP and add them safely to your slideshows, as in the image below.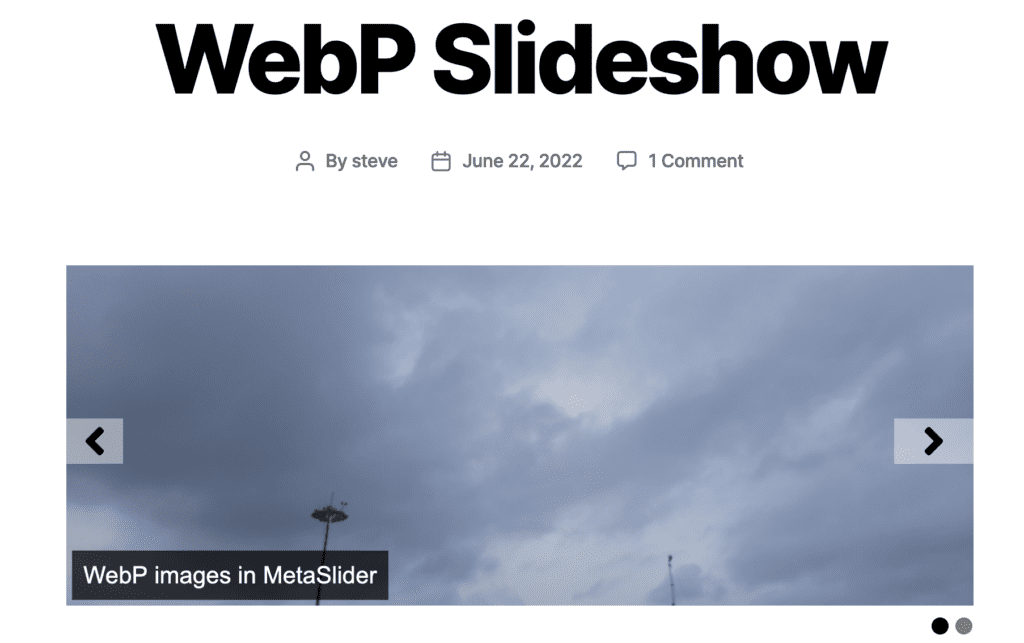 ---