We're delighted to say that MetaSlider Pro now supports local videos from your WordPress media library.
You can use MetaSlider to showcase your MP4, WebM, and MOV videos.
This new video feature has options that include cover images, auto play, mute, lazy load, the ability to hide controls, and much more.
---
How to add a new Local Video Slide to your slideshow
Thanks to the new Local Video Slides feature, you can build beautiful slideshows with videos in your WordPress media library. Here's how to use local videos with MetaSlider:
Start with MetaSlider and also MetaSlider Pro installed on your site.
Click the "Add Slide" button to launch the Media library.

In the left menu of the Media library, select "Local Video".
From here you can select a video for the slide, or upload a new video. You will need to use one of three formats: MP4, WebM, or MOV.
Click the "Add to slideshow" button.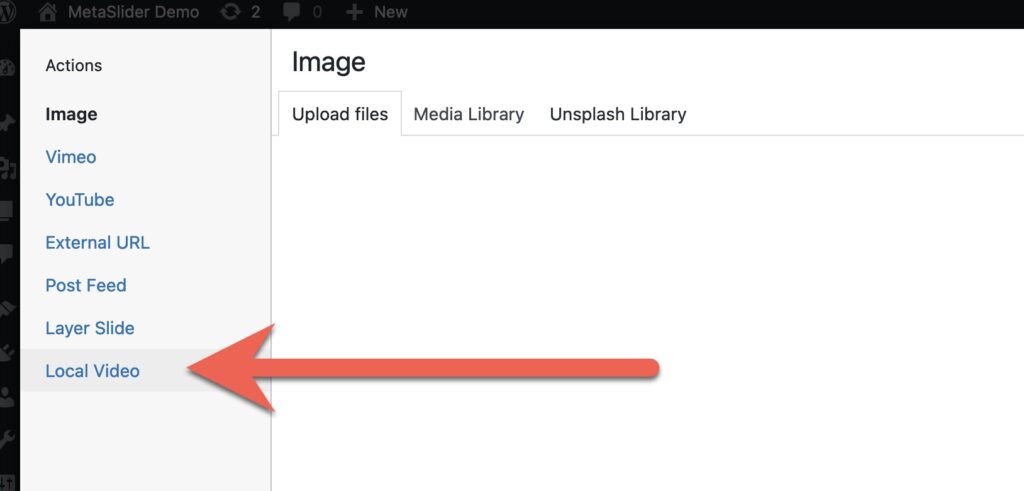 ---
How to configure your Local Video slide
The "General" tab allows you to configure the parameters for the local video. Here are the key settings:
Mute video: This will disable the sound by default. Your visitor can choose to enable the sound.
Show controls: This will load the player bottom bar and play button on the video, allowing visitors to move the video forward and back, mute, view in full screen mode and more.
Auto play (may require video to be muted): This starts the video as soon as the slide is displayed. When you enable this setting, also check "Mute video".
Lazy load video: This can increase how quickly your video appears for visitors.
Loop video: This will allow you to play the video in a loop and pause the slideshow until the user decides to see the next slide.

Using the "Cover" tab, you can choose a cover image for your video. This is useful to show as a placeholder when the video is not initialized or "Lazy load video" is enabled.
Click "Set cover image" and upload or choose an image from the Media library.

While editing your Local Video slides, place the cursor over the thumbnail to play the video. If you move the mouse away, the video will pause.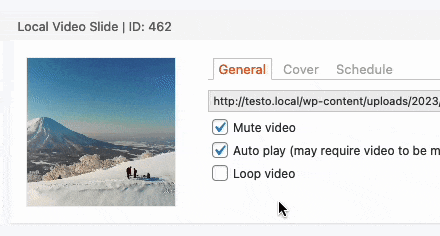 ---
How to show your Local Videos slides
Local videos slideshows work in the same way as any other slide type in MetaSlider. You can use Gutenberg blocks, shortcodes and other tools to add slideshows to your site. You can also use any of your favorite themes, navigation arrows, and more. This screenshot below shows a local video slideshow in action: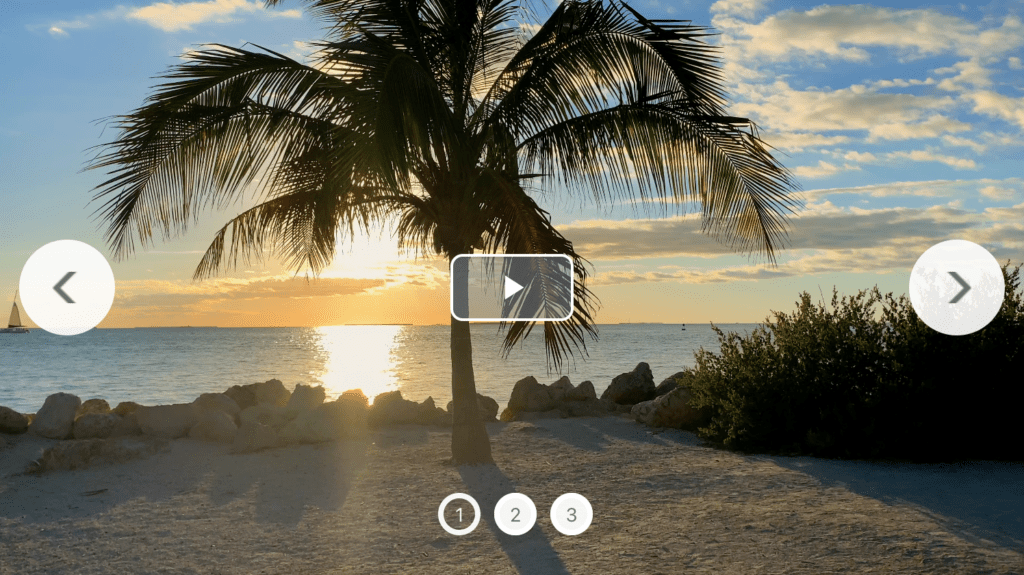 ---
Local Video slides and other video types
MetaSlider slideshows now support local video slides, plus also YouTube video slides and Vimeo video slides.
MetaSlider users love to create video slideshows, so we've been working hard to improve these video features. A few weeks ago, we added support for the YouTube Shorts video format.
---