MetaSlider is a powerful slideshow plugin and you can use it display many different types of image and video in WordPress.
Two of the most popular types of slider are YouTube slides and Vimeo slides. These slide types allow you to display videos that are hosted by these high-profiles sites. You don't have to pay for the bandwidth or worry about hosting issues. However, YouTube and Vimeo do also have drawbacks. Many people don't want the privacy headaches involved with those sites, and they also don't want the extra branding with the YouTube and Vimeo logos.
In this guide, I'll show you how to create a slideshow using videos hosted in your site's Media Library.
Before you start, it's worth checking to make sure your video uses the correct file type. WordPress officially allows you to upload nine types of video files. All of these file types can be embedded and played inside your posts and pages.
.avi
.mpg
.mov
.mp4, .m4v
.ogv
.wmv
.3gp
.3g2
You may be able to upload other file types, but these are the only ones that officially supported. Click here to see what video file types you can upload in WordPress.
---
How to create local video slides
Install both MetaSlider Free and MetaSlider Pro. This guide shows how to install both plugins.
Go to "MetaSlider" in your WordPress admin menu.
Click "New" in the top toolbar and create a new slider.
Click "Add Slide" and choose "Layer Slider".
In the screenshot below, check step 1. This helps you verify that WordPress accepts your video file.
In Step 2, copy the URL of your video by clicking "Copy URL to clipboard".
Click "Add to Slideshow".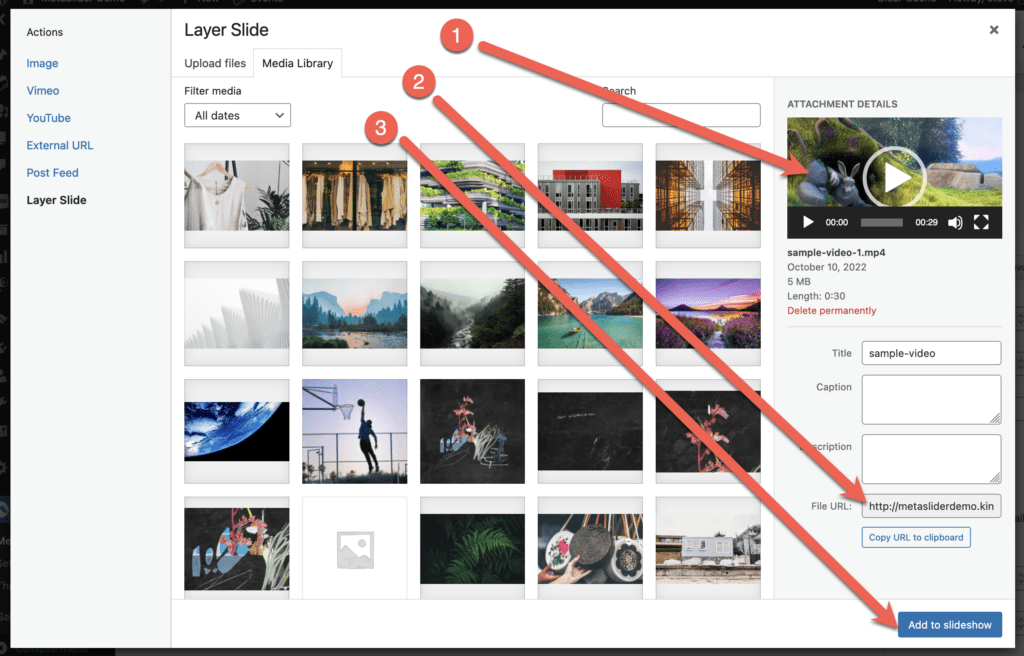 You will now see the "Layer Slide" in the main part of your MetaSlider admin area.
Click the "Video Background" tab.
Enter the URL for your video that you copied from the previous screenshot.

You have now completed the whole process and you can publish this slideshow on your site.
If you want to use other video sources, you can create YouTube sliders and Vimeo sliders in MetaSlider.
---