Finding good images is really hard!
When you click an "Image" button in WordPress, you will only see the images that you uploaded.
If you want to find new images, you need to leave your WordPress site. There are some great, free stock photo sources including Unsplash.com and Pexels.com. But these sites do not integrate with WordPress. And they often have confusing licenses that control how you can use the photos.
A better alternative is coming to WordPress.
Openverse is a free stock photo directory with over 600 million photos, images and audio files. Click here for more details on the Openverse story.
You will soon be able to search and add Openverse images from directly inside your WordPress site!
This WordPress-Openverse integration is not available yet, but in this guide we'll show you what's coming. My guess is that this feature will be part of WordPress 6.2 which arrives at the end of March. It will be a huge improvement to the media features in WordPress.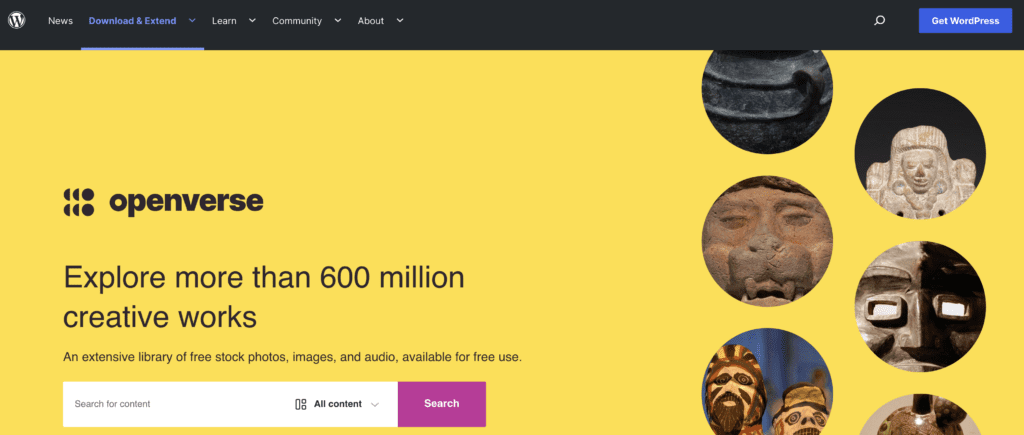 ---
How to add Openverse Images to WordPress Posts
To try this feature now, you need to use a pre-release version of the Gutenberg plugin. One great option is the Gutenberg Nightly plugin. This plugin provides you with easy access to features that haven't been shown to the public yet.
Create a new post.
Click the + icon in the top-left corner of the post editor.

You will see a new "Media" tab. This has options for "Images" and "Openverse".
Click "Images" and you can search your own site's Media Library.
Click "Openverse" and you can search those 600 million creative items.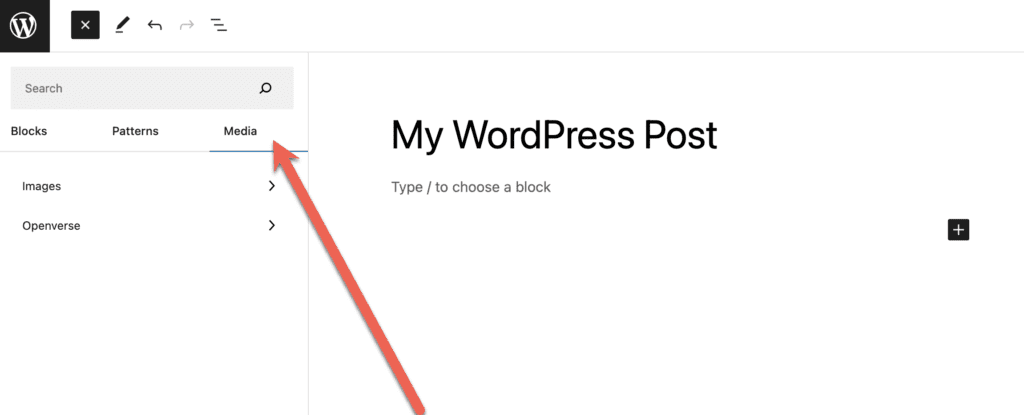 Your next step is to search for the image that you want. In this screenshot below, I'm searching for "beach".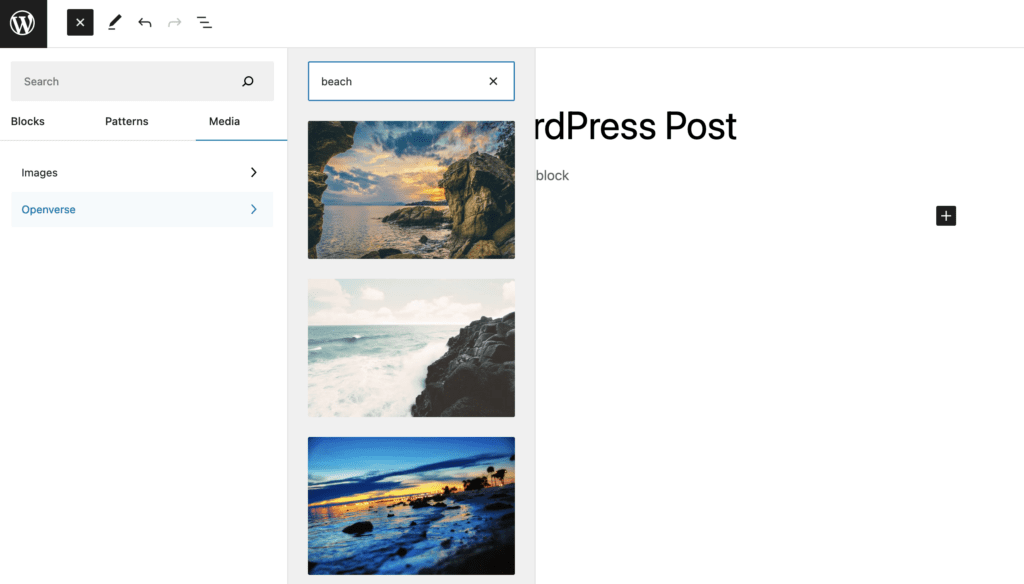 Click on the image you want and it immediately appears in your post. Under the image is a caption with the name of the image, the photographer, and the license.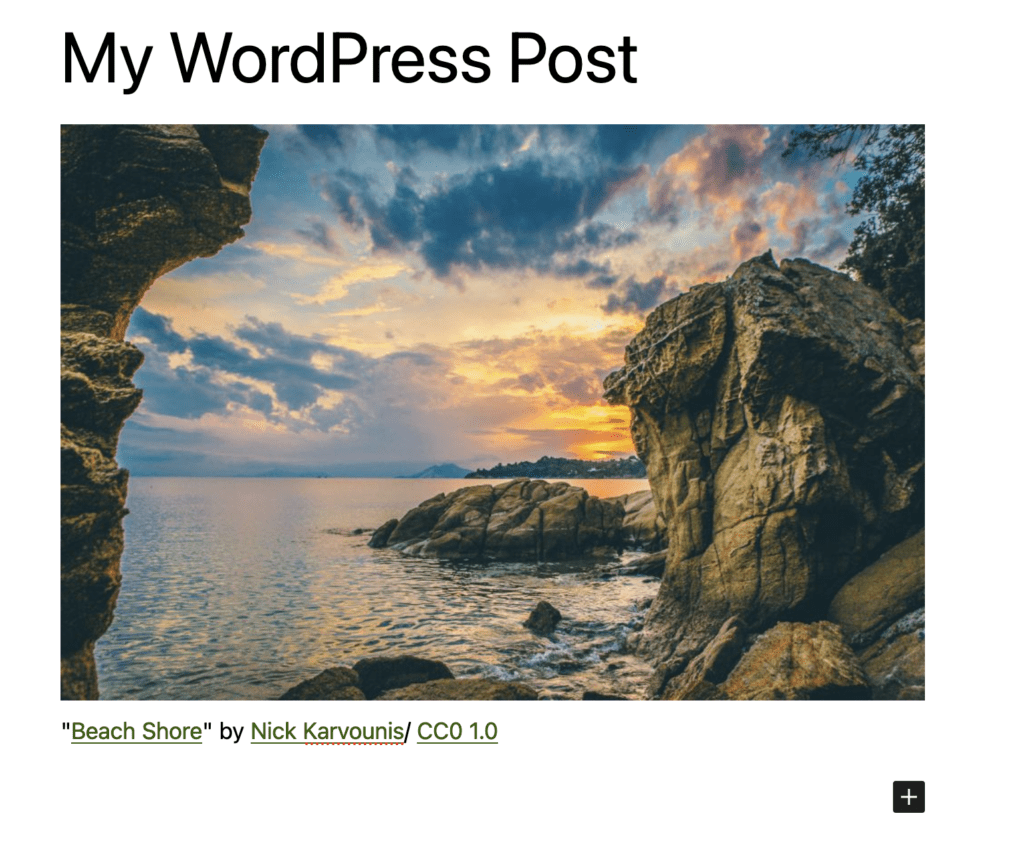 I'll note a couple of extra things that may be useful to know about this Openverse integration:
The images don't automatically become part of your WordPress Media Library. Your site will load the images from a variety of CDNs connected to Openverse. You may want to take the extra step of adding the images to your Media Library.
You can do just about anything you want with Openverse images. They are all under a Creative Commons license in the public domain. You can click here to read the license for our example image. You can keep credit for the photographer, but it's not required. You can copy, modify, and distribute the images, even for commercial purposes, all without asking permission.
I suspect that this is the first step and that we'll see deeper integrations between Openverse. For example, there's already talk of adding Openverse to the "Image" block. Automattic's Jetpack plugin already include links to Openverse (and Pexels and Google Photos) when you add images via the block editor. This might be a preview of what we see in the future.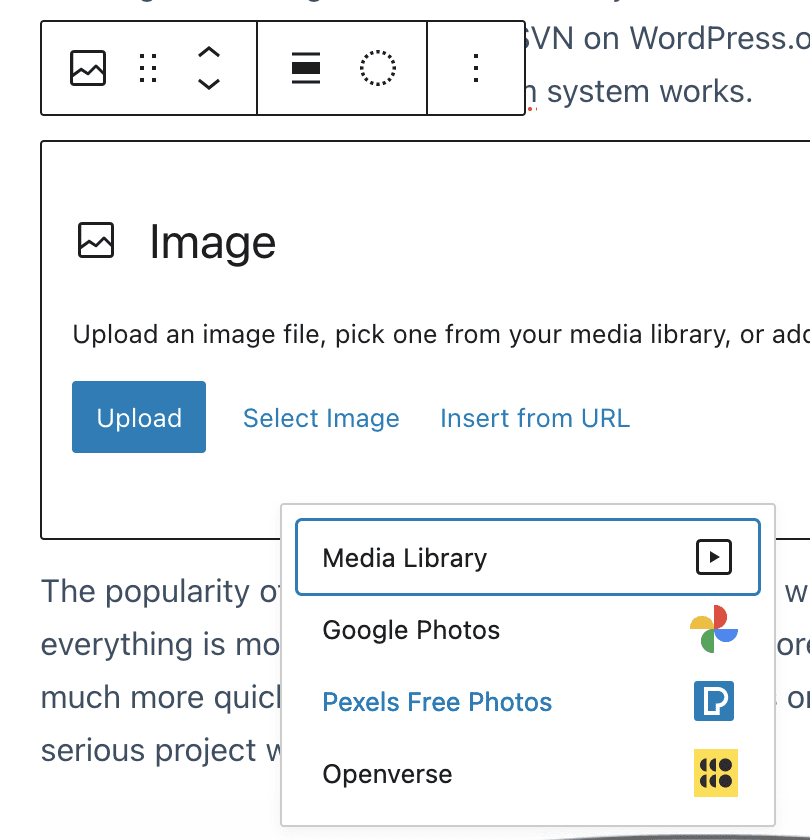 I can guarantee that MetaSlider will build on this Openverse integration when it arrives in WordPress. We already have an Unsplash integration for you and this will be a wonderful addition. You will be able to browse and add Openverse images to your slideshows.
---
Openverse and WordPress
It's very positive to see WordPress supporting the Openverse service. This upcoming integration will be a very helpful improvement. Imagine how much easier things will be for users when they can browse and use millions of completely free images! Here are more recommendations for WordPress stock photos.
Improving the media management is one of the "Big Picture Goals" for WordPress in 2023. We think this Openverse integration is a great first step.
---